Elissa Brent Weissman wrote her first novel when she was in sixth grade. Now all grown up, she has published two novels for the junior high crowd: Standing for Socks, the story of a girl who (accidentally) leads a individualist movement in her school and community, and The Trouble With Mark Hopper, which follows the chaos that ensues when two boys with the same name attend the same school.

During our interview, Elissa and I talked about activism, artistic abilities, and identity. Oh, and mismatched footwear.

You wrote the first draft of your first novel, Standing for Socks, for a creative writing class during your senior year at Johns Hopkins University. Had you already been working on the story, or did you initially create it for the assignment?

I hadn't already been working on it. I knew from my freshman year that I wanted to take the novel-writing class my senior year, but when I got there, I didn't have any ideas for a novel! The first time it was my turn to hand something in, I wrote something terrible that I knew I'd scrap even before my class confirmed that I should.

After that, I remembered that I'd once (during high school? junior high?) considered writing a story about characters who had problems with all sorts of small things, including one - Fara - who had a problem with socks. So I decided to try to tell Fara's story. But it was really when I started writing Jody (Fara's best friend) and got the two girls interacting with each other that the story started to take off.

What do you know now about the publishing industry or the writing life that you wish you'd known prior to writing that first draft?

Being an author takes A LOT of drive. Even though there's a rush of pride with every big accomplishment - completing a book, getting an agent, finding a publisher - each step also comes with frustrations and a new set of seemingly unattainable goals. There are no guarantees in this business, and you can never really sit back and say, "Now I've made it."

If I'd known all this before writing the first draft, would it have changed anything, though? Nah. I write because I love it.

Like Fara, do you ever mismatch your socks, accidentally or on purpose?

I know it's disappointing, but my socks usually match. Sometimes I feel bad about it when I meet readers, and I'll wear shoes that don't require socks to avoid the issue. But the truth is that mismatched socks isn't my thing; it's Fara's. And I love her - I love all the characters I create - but she's just that: a character.

Because of her socks, Fara becomes a kind of local celebrity. Have you ever felt like a celebrity in your hometown or elsewhere?

Get this: I was recently RECOGNIZED. I was here in Baltimore having lunch in a cafe with a friend who was visiting from New York. A woman came up to our table and said, "Excuse me, but you're a writer, right?" She and her daughter had seen me on a panel at the Baltimore Book Festival a few weeks before. She called over her 10-year-old daughter, who said, "You wrote that socks book! I want to read that book so bad." My friend was beyond impressed. So was I - Baltimore's small like that, but this was a first (and so far, last). The joke was that when I went to the bathroom I really went outside and to pay them for a job well done.

That's awesome!

And I just remembered this random story: One day during my semester abroad in Australia, I was on the beach with my American roommate, Sarah, who was learning to surf. We were hanging out on the beach - she in a wetsuit, holding her surfboard - when a big tour bus pulled up. Out filed about 75 Japanese tourists. They saw Sarah with her board got very excited—they seemed to think we were famous Australian surfers! The two of us stood there for about 10 minutes, posing for photos with every person on that bus. It was hilarious.

Say you have a young reader who's moved to activism by your writing but doesn't know where to start, where to volunteer or what to do exactly. What would you recommend?

What a great situation to be in! If you want to give back, I think the first thing to do is ask yourself what you stand for. The environment? Animals? Helping those less fortunate? Spreading your love of reading or writing? Once you have a general sense of what you'd like to do, ask parents, teachers, and other members of the community to help you find a local organization that matches your area of service. Boy/girl scout groups, religious organizations, and school clubs are good places to start—they often do community service projects.

If you don't find something that excites you, get your family and friends together and start your own project! You can collect clothes, toys, or books to donate; sell something you create and donate the money to charity; plan a day to clean up a park…anything, really. Everything starts small, but if you can think of a way to give back, chances are you can make it happen.

Agreed. In your second novel, The Trouble with Mark Hopper, two boys with the same name stir up trouble and confusion in their school and town. Is either Mark like you? Are you an artist?

Hmm. I don't know that I really have that much in common with either Mark. I'm academic like one of them (I'm a total nerd), but I'm friendly like the other (I hope).

Unlike Mark, I am a TERRIBLE artist. Really terrible. It's funny, actually. I have two brothers, and all three of us are very creative. My older brother is a classical pianist, I'm a writer, and my younger brother is a drummer in a rock band. We all did a lot of theater growing up, too. But none of us can draw! For proof, I've included Exhibit A: a GameBoy game that asked us to draw a koala. Mine is pretty bad, but Mike's is downright funny. I don't have a picture of a koala from Matt; I should get one to complete the Weissman-bad-artist-trifecta.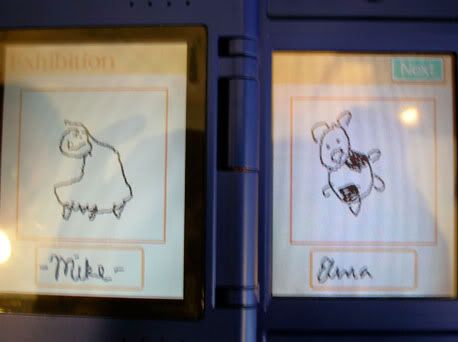 Since the book's release, you've been contacted by real-life Mark Hoppers and displayed their pictures at the book's website. Have any of them read the book?

Yes! There are a lot of them! It's been really interesting seeing who they all are. Quite a few are British, which, when you think about the name Mark Hopper, isn't too surprising. I'm also trying to friend every Mark Hopper on Facebook, which has been fun and confusing. The best part was when my profile newsfeed just said "Elissa and Mark Hopper are now friends" 15 or 20 times in row. Most of the ones I've heard from hadn't read the book when they contacted me. But of course I hope they will. It'd be great if whoismarkhopper.com just grows as grows. Perhaps one day we can have a big convention of Mark Hoppers, like this one of Dave Gormans. (link)

The two fictional Marks can thank your junior high classmates named Evan Zucker for the inspiration. Are you still in touch with either Evan, and do they know about the book?

First, a clarification and disclaimer: Having two kids with the same name in my junior high inspired the premise of the story, but not the characters. The two Mark Hoppers aren't based on the two Evan Zuckers, or on anyone else, including the many Mark Hoppers on whoismarkhopper.com.

I'm not in touch with either Evan anymore; I haven't been since junior high. And I haven't heard from either of them yet, which is pretty surprising, especially considering social networking. But I'm expecting to at some point. It says on the book jacket that one of them wasn't very nice. But since they both have the same name, if I hear from either one, I'll assure him he was the nice one. :)

If you met someone who shared your name, what would you say?

You know, I don't know! But I was one of 3 _lissa's in my high school. We were Alissa, Elissa, and Ilissa. All we need are Olissa, Ulissa, and Sometimes-Y-lissa, and we can all team up and rule the world...or form a really cheesy girl band.

And your band name can be The Cabinet of Vowel _lissas! What are your ten favorite books of all time?

Ah, one of the hardest questions of all time! But at least you've given me ten. This is the best I can do, but I'm leaving a lot out, and they're not in order.

Peter Pan by J. M. Barrie
Ender's Game by Orson Scott Card
Sixth Grade Secrets by Louis Sachar
The Giver by Lois Lowry
Harry Potter series by J. K. Rowling
To Kill a Mockingbird by Harper Lee
Guests of the Nation by Frank O'Connor
Extremely Loud and Incredibly Close by Jonathan Safran Foer
Catch-22 by Joseph Heller
The Little Mouse, the Red Ripe Strawberry, and the Big Hungry Bear by Don and Audrey Wood

Visit Elissa's website.

Read my review of Standing for Socks.