The Secret Backs of Things by Christopher Golden
September 11th, 2010 (01:27 pm)
Current Mood: thirsty
Current Song: That Says It All by Duncan Sheik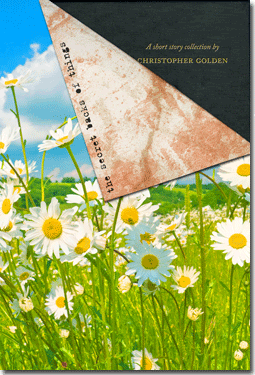 The Secret Backs of Things
by Christopher Golden
Even if your secrets are never told, you can't always keep them from everyone...
Christopher Golden's first-ever collection of short stories,
The Secret Backs of Things
takes the readers into a realm rich with legends, folklore and myths, while still finding a place for some modern tales and even a couple Hellboy stories:
A man learns that it would have been better to have not asked a beautiful woman why her body is covered with mysterious tattoos in "The Art of the Deal."
A young boy accidentally finds out about his secret power when a childhood game goes too far in "Pa-Kow."
A teenager finally understands why she always felt so alive running barefoot through the woods in "The Mournful Cry of Owls."
And in the title story, "The Secret Backs of Things," the protagonist discovers that even if your secrets are never told, you can't always keep them from everyone...
In addition to all the new stories in the collection, readers will find a reprint of "The Shell Collector," long out of print and originally published as part of the acclaimed Cemetery Dance Novella Series.
Filled with illustrations by Glenn Chadbourne, The Secret Backs of Things is Christopher Golden at his best. Chilling, harrowing and, at times, more than slightly unsettling, this collection is sure to excite and entertain longtime Golden fans and new readers alike.
Table of Contents:
Making Myths: An Introduction by Tim Lebbon
The Art of the Deal
Runaway
Wall to Wall
Pyre
The Nuckelavee
The Last Straw
Dead Flies on My Shoulder
One
Venus and Mars
Pa-Kow
Lament for the Gunwitch
The Urge
Burning Questions
The Shell Collector
Facets of Solitaire
The Secret Backs of Things
The Mournful Cry of Owls
Reviews
"Golden presents 18 striking short stories from all facets of the dark fantastic, accompanied by intriguing authorial afterthoughts and Glenn Chadbourne's unsettling mythic illustrations. These chillingly realized glimpses of the abyss are not for the faint of heart."
-
Publishers Weekly
"Carpet sharks. The Wild Hunt. Human skin framed as a canvas in a painting. Really old Scottish manors with very odd monsters. The Norns. Hellboy. And that's but a sampling of the things that are to be found in this massive collection of short fiction from Christopher Golden, one of the best contemporary writers of both dark fantasy and good old-fashioned horror... He's certainly as good as Stephen King, a rare ability among horror writers these days."
-
Cat Eldridge, The Green Man Review
Order the Limited Edition signed by Christopher Golden from Cemetery Dance.
ISBN 978-1-58767-206-4
Published in two states:
* Limited Edition of 1000 signed copies
* Traycased Lettered Edition of 52 signed and lettered copies bound in leather with a satin ribbon page marker
Cover art by Jose Nieto
Interior illustrations by Glenn Chadbourne
Introduction by Tim Lebbon